New! Fused Glass Stacked Dish

TOP RATED
58 Have Dabbled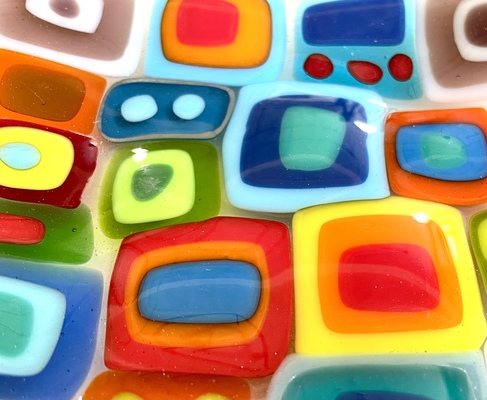 ABOUT THIS EVENT
Event Category
Arts & DIY
Event Overview
Use a variety of brightly colored layers of flat glass to create a festive one-of-a-kind fused glass dish. We will assemble stacks of assorted fusible glass and let heat, surface tension and gravity do their work. These stacked dishes are beautiful illustrations of fusing and the movement of molten glass when heated to high temperatures. No two pieces are ever the same.
You will learn the basics of safely cutting and assembling flat glass. Pre-cut pieces will also be available to make your 5" x 5" fused glass dish. Clear base is included with the fee.
Great for a date night or a girls/guys night out! Wear comfortable close-toed shoes. No experience needed. Pieces will be ready for pick up within 2 weeks.


No experience necessary and great for ages 14+. 


Ages 14-15 must have an adult present with them for the entire class.


All materials are provided. Your pieces will be fired after class and ready to pick up 2/2.5 weeks after class. Shipping is available for a fee.


Ages 16+ Parent/Guardian must be present when student (ages 16-17) arrives to sign waiver before class.


Wear closed-toed shoes and bring water to drink.


If you have any COVID, flu or cold symptoms please do not come to class. We can reschedule for a later date.
Minimum age
14 years or older
What's Provided
All materials provided
Cancellation Policy
Location
There are currently no upcoming dates scheduled for this Dabble. Log in to an account message the host or add to your bucket list to be automatically notified when new dates are posted.
MORE ABOUT YOUR HOST
TOP RATED
After receiving her BFA from Alfred University in 1992 Leslie Speicher travelled the country finally choosing Seattle, WA as her home. During her seven years there she focused on her glasswork, teaching at Pratt Fine Arts Center and assisting and studying with local and international glass artists. During this time she was a TA and AA at Pilchuck Glass School, Instructor at Urban Glass in Brooklyn, NY and Red Deer College in Alberta, CA. Residencies include Urban Glass, Hastings College and Pratt Fine Arts Center. Leslie has shown her glasswork, sculptures and installations in Seattle, NYC, Miami, Philadelphia and Chicago. Publications include International Glass Art; Richard Yelle, author.
She then decided to return to school to get her Masters so she could teach at the college level. In 2004, she received her MFA from the University of Illinois. Her teaching career took her first to the University of Miami where she taught 3D Design. Leslie then taught at the Cleveland Institute of Art as an Adjunct in the Glass Department before moving to Chicago, IL after her solo show at the Museum of Surgical Science in 2006.
No matter what she is making her aspiration is to create pieces with unique character, which are thought provoking and visually pleasing. Leslie's interest in exploring materials leads her to create narratives between design, texture, form and color. Every piece is one-of-a-kind, designed and handcrafted by the artist.
Leslie is the owner of Chicago Glass Collective in Chicago, IL where she also teaches and makes her work.