New! Mod Striped Dish | Glass Fusing 101

TOP RATED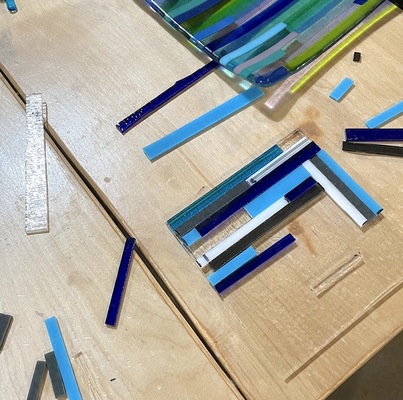 ABOUT THIS EVENT
Event Category
Arts & DIY
Event Overview
In this new glass fusing class and Chicago Glass Collective, learn how to arrange a variety of colorful flat glass to create a modern striped design. Your piece will be slumped/formed into one of two shapes. You will learn how to safely cut and assemble and glass in this class as well as learning the basics of how to fused glass is fired in the kiln. Bring your curiosity and love of color. Terrific for first timers! 
Great for students 14+. No experience neccesary. 
Minimum age
16 years or older
Parent or guardian required if under 18
What You Can Expect From This Experience
Cutting flat glass
Assemble glass for kiln
Learn about fusing glass
Cancellation Policy
Location
There are currently no upcoming dates scheduled for this Dabble. Log in to an account message the host or add to your bucket list to be automatically notified when new dates are posted.
MORE ABOUT YOUR HOST
TOP RATED
After receiving her BFA from Alfred University in 1992 Leslie Speicher travelled the country finally choosing Seattle, WA as her home. During her seven years there she focused on her glasswork, teaching at Pratt Fine Arts Center and assisting and studying with local and international glass artists. During this time she was a TA and AA at Pilchuck Glass School, Instructor at Urban Glass in Brooklyn, NY and Red Deer College in Alberta, CA. Residencies include Urban Glass, Hastings College and Pratt Fine Arts Center. Leslie has shown her glasswork, sculptures and installations in Seattle, NYC, Miami, Philadelphia and Chicago. Publications include International Glass Art; Richard Yelle, author.
She then decided to return to school to get her Masters so she could teach at the college level. In 2004, she received her MFA from the University of Illinois. Her teaching career took her first to the University of Miami where she taught 3D Design. Leslie then taught at the Cleveland Institute of Art as an Adjunct in the Glass Department before moving to Chicago, IL after her solo show at the Museum of Surgical Science in 2006.
No matter what she is making her aspiration is to create pieces with unique character, which are thought provoking and visually pleasing. Leslie's interest in exploring materials leads her to create narratives between design, texture, form and color. Every piece is one-of-a-kind, designed and handcrafted by the artist.
Leslie is the owner of Chicago Glass Collective in Chicago, IL where she also teaches and makes her work.