Piecing Skills | Half-Square Triangles + Partial Seam Star

TOP RATED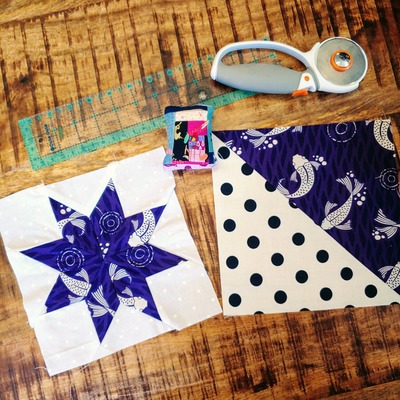 ABOUT THIS EVENT
Event Category
Arts & DIY
Event Overview
In this skills building class, you'll learn how to sew Half-Square Triangles + make a Partial Seam Star (8-Point Star Block) This class is perfect for anyone wanting to have more piecing skills in their repertoire. These skills can be applied to your quilting, collage work, textile accessories, home decor, and/or apparel. The applications are endless. 

Half-Square Triangles have all the capabilities and half the sewing of the log cabin. High contrast fabrics and clean geometric lines provide a modern look.
Eight-Point Star Block is a traditional block used in star quilts. You'll tackle partial seams to create beautiful and exact points to make this 8-point star that will surely shine in traditional or modern designs.

You'll leave with two 8-inch square blocks.
For ease, we provide sewing machines for you to use, but feel free to bring yours.
Skill Level: Advanced Beginner
Instructor Name: Cindy Harp
Minimum age
All ages welcome
What's Provided
All materials provided.
Cancellation Policy
Location
There are currently no upcoming dates scheduled for this Dabble. Log in to an account message the host or add to your bucket list to be automatically notified when new dates are posted.
MORE ABOUT YOUR HOST

TOP RATED
I have a mission! I want to bring people together to create, and grow a collective of curious creatives and artists in arms who wish to share their passion for making and hand crafting beautiful things for the pure joy of it.

Just this December, a dream came true for me. I now have a space to call home for all of my passions. It's a boutique fabric nook and makerspace in RiNo, where I host all my classes, sell amazing modern fabric, beads, and jewelry. Come see us at 3327 Brighton Blvd. Denver, CO 80216. (Hours are posted on the website.)
As far as my creativity philosophy goes, I believe all art comes from the soul, the architect, and the hands and eyes are the builders for those inspired ideas. When we make I get lost in the process and drop all judgements and lock away the inner critic, allowing myself to simply play. Altogether, I am a fabric, quilt, music, bead and jewelry enthusiast, but I want to gather makers of all arts to inspire, support each other, and share. I'd love to build a creative community, and bring together others who have a passion for making things. I also sing, play a few instruments, and write inspiring songs with my darling songstress sisters, the Leaders of the Heart and Starling, in Denver and Boulder. I hope to join forces in creative bliss.