ABOUT THIS EVENT
Event Category
Arts & DIY
Event Overview
Melt away the winter by glazing an oil diffuser! Each diffuser is made from ceramic and is ready for color. I will be demonstrating a marbleizing and drip technique to add curiosity and mystery into your project!

The next day I will fire your diffuser in a kiln that reaches 1800 degrees. It will be so exciting to unwrap your shiny, bright original work!

Materials & Supplies:
Ceramic Oil Diffuser with space for a votive candle and a well for oil/wax. 4.25" x 4.5"
Food Safe Gloss Glazes
Paint Brushes and sponges for glaze application, design materials, stencils, pencils, etc.

NO artistic ability required! If you can imagine it, I can help you create it! You may bring photos for inspiration, or use the stencils and materials I have available to create your design. Glazes are a solution of ground up glass mixed with a liquid binder so they can be applied in a "painterly" fashion. They can also be marbleized, splattered, or used for outlining. It's truly an awesome material!

After Firing, the finished product will be shipped to you; this is included in the class fee.

Minimum age
All ages welcome
Cancellation Policy
Location
There are currently no upcoming dates scheduled for this Dabble. Log in to an account message the host or add to your bucket list to be automatically notified when new dates are posted.
MORE ABOUT YOUR HOST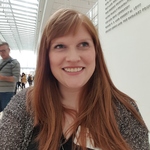 TOP RATED
Urban Oil Ceramics is the umbrella for all artisan goods and designs created by owner Katie Netti. From oil lamps and plant decor to books and cards, Urban Oil is your one-stop shop for unique handmade and custom gifts. Katie focuses on sophisticated designs that use natural materials and found objects for her work, so all of her products are entirely handmade and unique. Although based out of Chicago (Logan Square), Urban Oil and its products are all available for shipping from the website in addition to their availability in local stores.
Katie Also teaches adult art classes in her home studio. From a jewelry making work-space, a ceramic glazing station or a book binding shop, her studio changes to accommodate the class type.