All Ages 1893 World's Fair Walking Tour

TOP RATED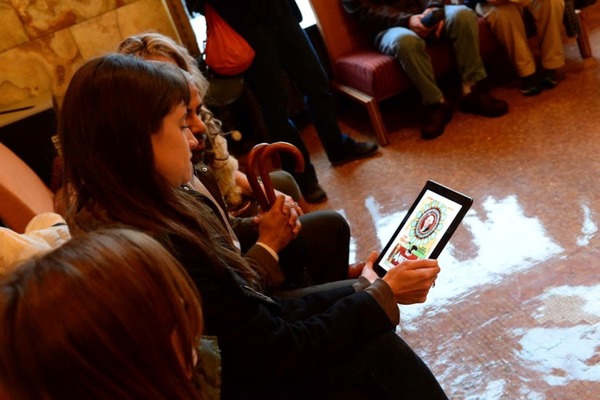 ABOUT THIS EVENT
Event Category
Education
Event Overview
The All Ages 1893 World's Fair Walking Tour digs into how and why the World's Columbian Exposition still captures imaginations more than 125 years later.
This 2-hour mostly indoor walking tour visits beautiful historical buildings in downtown Chicago that still remain from the time of the World's Fair. You will learn more about the history of this incredible event while playing interactive, educational games like visual scavenger hunts. This downtown tour visits some of the few remaining and spectacular buildings from the time of the World's Fair. The fairgrounds themselves were in Jackson Park and on the Midway. You can best see the impact of the fair right in downtown Chicago. Here the architecture and landscape still show the World's Fair imprint even today. Stepping into a glittering lobby of a 19th-century hotel allows you to step into the past in your imagination. Along with commentary illuminating the World's Fair's history, your guide will show you archival photos and images on shared iPads that help bring it to life. You'll even get a chance to ride in a human-operated elevator, one of the last left in the city. In between tour commentary, the guide will lead you in interactive, educational games, including a visual scavenger hunt with historic clues. This is a fun way to learn about history, making it a good tour for guests of all ages, from kids to senior citizens! This is a streamlined version of our regularly-scheduled 1893 World's Fair Walking Tour with Bars.
The All Ages version of the tour focuses on the educational games and architectural explorations and does not include a drink stop. Highlights Ride an old elevator with a human operator Interactive, educational games like a visual scavenger hunt Beautiful 19th-century architecture A secret alleyway with a hidden building Magnificent architecture of a landmark department store Stories and Ideas The rapid changes in culture around the turn of the 20th century All the different exhibits, from transportation to fine arts The 1893 Fair's array of foods and even food sculpture Amusements on the Midway at the 1893 World's Fair The magnitude and brevity of this influential event
IMPORTANT: Youth (17 and under) are $18 and kids under 5 are free. Reach out to Dabble Support (chat tool in lower right of this screen or by email or phone) and they'll credit your account to book with the discounts applied. Please create a free Dabble account prior to calling or reaching out for support.
MEETING POINT - We start INSIDE the main lobby at the north end of the Congress Plaza Hotel, 520 S. Michigan Ave. Please arrive 10 minutes in advance for check-in. Look for the guide with the name tag and clipboard. TOUR END - Tour ends promptly two hours after your scheduled start time. We end inside the Target, 1 S. State St. PARKING - If you are driving, Chicago Detours offers our guests a special discounted rate for parking at the Grant Park North Garage, accessible from Michigan Avenue at Randolph Street. Rate is $15 ($38 value), valid up to 12 hours. Upon check-in for the tour, ask the tour guide for a voucher for the discounted rate. Please understand that if you do not ask for the voucher at the beginning of the tour, we can no longer be responsible for giving it to you.
Looking forward to seeing you,
Amanda and the Chicago Detours Team
Minimum age
All ages welcome
What's Provided
Shared Ipad with historic photosOne small snack
Custom Cancellation Policy
All sales are final. Changes are welcome at least 48 hours before the tour. Please email info@chicagodetours.com to process a change. We do not accept changes via voicemail. After 48 hours changes are not accepted.
Location
There are currently no upcoming dates scheduled for this Dabble. Log in to an account message the host or add to your bucket list to be automatically notified when new dates are posted.
MORE ABOUT YOUR HOST
TOP RATED
Our Philosophy
We believe that the primary role of a tour guide is to educate, so we create an interactive group dynamic and share educational tools and new perspectives for you to connect with the architecture of Chicago.
We are committed to responsible travel, so our tour company uses green practices and immerse you in a truly local experience.
We know that history is best told with a creative approach, so we use different media, like historic quotes, old photographs, and documentary film clips, to stimulate your imagination and present various perspectives.
We believe that a city like Chicago is more than "highlights," so we share forgotten stories about both famous city landmarks and lesser-known attractions.
We understand that business is about building community, so our tour company likes to connect with tour operators, conventions, destination management companies, non-profits, community groups, senior groups, universities, cultural organizations, and Chicago businesses.
We treat all our tour guests like a new friend, because we believe in the importance of hospitality, and we love when tour guests have chosen to tour Chicago with a small business.