Century of Contrasts | South Loop Walking Tour

TOP RATED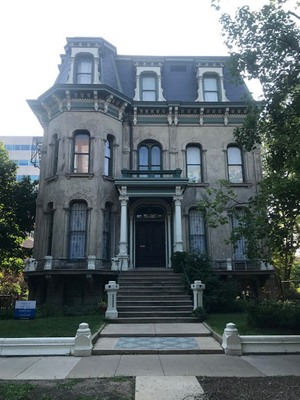 ABOUT THIS EVENT
Event Category
Education
Event Overview
Guests will experience incredible architecture among the famed historic districts of Motor Row and Prairie Avenue. Beyond the architecture, guests will discover the unexpected stories of the people who lived and worked in Chicago's South Loop from 1871 to 1971. The neighborhood's Prairie Avenue once boasted "Millionaire Row." At the peak of the Gilded Age in the late 19th century, some of the wealthiest people in American history built palatial mansions in this bucolic area. By the 1970s, the neighborhood was spattered with industrial buildings, shuttered train stations, parking lots, and McCormick Place, the just-opened, colossal convention center. Despite this unbecoming state in the 1970s, the choices made and forces unleashed at that nadir of urban decay led to the vibrant and redeveloped neighborhood of today. 1971 was a crucial and overlooked year in Chicago history, a time of transition. City leaders opened America's biggest convention center, a Modernist corporate acropolis. The roots of the historic preservation movement were taking form mere blocks away. The closure of passenger railroad lines marked the end of an era that defined Chicago's role in the country, and began the era that we now live in. Learn the massive histories and inside stories at mom and pop factories and visit both the famous and less-known locations of Chess Records. Guests will learn of the dramatic fall of the mansion district, as beautiful greystones went from high-class soirees to flophouses and publishing offices. This walking tour presents new perspectives on how the South Loop became the vibrant neighborhood it is today. Highlights Step into the Glessner House, an 1870s mansions Ornate early auto dealerships on Motor Row Both the famous and less-known places of Chess Records, home of Chicago blues The Clarke House, the oldest built in Chicago Landscaped gardens of the Chicago Women's Park Unexpected architectural relics Stories & Ideas High society gossip of the Gilded Age Kitschy 1970s nostalgia and funky products The evolution of city life over a century Changes in residential architecture and decor Understand design concepts behind Prairie Avenue The roots of the historic preservation movement 
MEETING POINT - We start near the entrance to the Food Hall INSIDE the Marriott Marquis, 2121 S Prairie Ave. Please arrive 10 minutes in advance for check-in. Look for the guide with the name tag and clipboard. TOUR CHANGES - All sales are final. Changes are welcome at least 48 hours before the tour. Please email info@chicagodetours.com to process a change. We do not accept changes via voicemail. After 48 hours changes are not accepted. Details on our cancellation policy on FAQs page. TOUR END - Tour ends promptly two hours after your scheduled start time. We end on the steps of the Clarke House, 1827 S Indiana. PARKING - If you are driving, Chicago Detours offers our guests a special discounted rate for parking at the Grant Park North Garage, accessible from Michigan Avenue at Randolph Street. Rate is $15 ($38 value), valid up to 12 hours. Upon check-in for the tour, ask the tour guide for a voucher for the discounted rate. Please understand that if you do not ask for the voucher at the beginning of the tour, we can no longer be responsible for giving it to you. The garage is about four blocks from the tour meeting point, and 2 blocks from the tour end.
Looking forward to seeing you,
Amanda and the Chicago Detours Team
Minimum age
All ages welcome
Cancellation Policy
Location
There are currently no upcoming dates scheduled for this Dabble. Log in to an account message the host or add to your bucket list to be automatically notified when new dates are posted.
MORE ABOUT YOUR HOST
TOP RATED
Our Philosophy
We believe that the primary role of a tour guide is to educate, so we create an interactive group dynamic and share educational tools and new perspectives for you to connect with the architecture of Chicago.
We are committed to responsible travel, so our tour company uses green practices and immerse you in a truly local experience.
We know that history is best told with a creative approach, so we use different media, like historic quotes, old photographs, and documentary film clips, to stimulate your imagination and present various perspectives.
We believe that a city like Chicago is more than "highlights," so we share forgotten stories about both famous city landmarks and lesser-known attractions.
We understand that business is about building community, so our tour company likes to connect with tour operators, conventions, destination management companies, non-profits, community groups, senior groups, universities, cultural organizations, and Chicago businesses.
We treat all our tour guests like a new friend, because we believe in the importance of hospitality, and we love when tour guests have chosen to tour Chicago with a small business.