Cross It Off Weekend

TOP RATED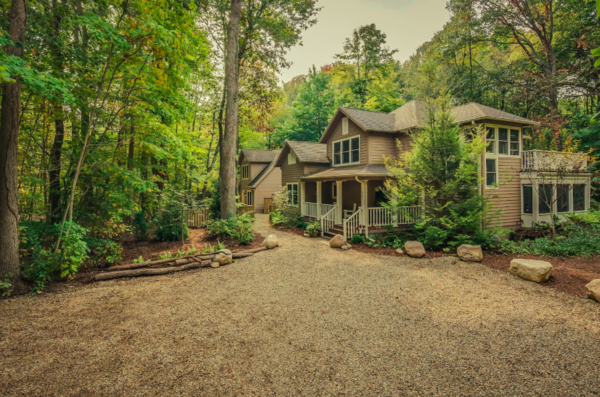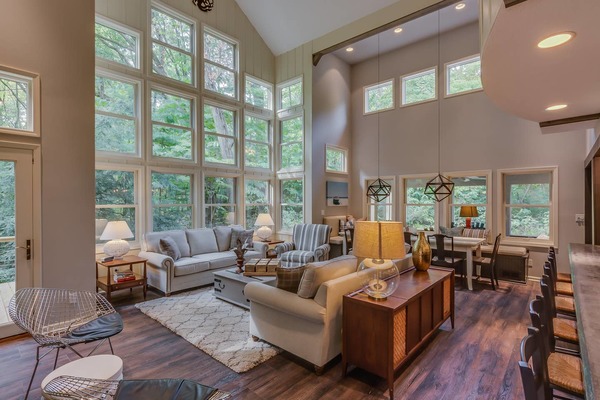 ABOUT THIS EVENT
Event Category
Business & Technology
Event Overview
☆ This offering is December 10 - December 13 (see schedule below) in Michigan about a two-hour drive from Chicago; exact address will be sent to registrants. If you're a heavy snorer or have another type of scenario that may affect a roommate and it says that only shared rooms remain at the end of this section, please reach out to Mac & Cheese before registering. As you'll be in close proximity to someone else and we want to ensure that everyone has a peaceful, relaxing weekend with good sleep and no stress about negatively impacting others, let's discuss your scenario and make sure sharing a room will work and that you should join us. ROOMS AVAILABLE: solo and shared. ☆
-----------------------------------------
"Nine strangers, pay to live in a house…things got real alright. Really productive that is! Cross It Off Weekend was totally worth every penny. Being around others equally dedicated to getting things done in (almost) silence wasn't awkward at all. It was like being in a private co-working space where people felt comfortable enough to talk to each other organically or while waiting for a delicious meal. I loved coming back from a retreat to the woods feeling like I was ahead on my list of things to do rather than playing post-vacation catch-up. I highly recommend Cross It Off Days and Weekends to anyone with something that's lingered on their to-do list for far too long. I look forward to being an alumnus!"
"Cross It Off Weekend was amazing! I got to meet and spend time with like-minded folks, learn from them, and make connections while having freedom and space to get things done. I was so completely productive because being away from it all, feeding off the energy of everyone else, and being out in nature just increased my energy and motivation. I loved the good food, good people, great house, and wonderful energy!"
A gorgeous, luxurious, peaceful setting, away from chores, family, job, meetings, noise, where the only decisions you have to make are "What nook should I hunker down in?", "When should I take a walk in nature break?, and "What type of tea do I want?"
Cross It Off Weekend is a gift to yourself. While there's merit to thinking of others and roughing it, this is not that; this is thinking of yourself and Oprah'ing it. Ya know, deliciousness like vaulted ceilings, en-suites, fireplace, hot tub, a professional chef-grade kitchen (that you won't need to use cause hello, all meals provided). Being in an inspiring environment and being taken care of does a world of good for productivity and for relaxation. Though they seem at odds with one another, both doing and not doing are important actions and impact the quality of the other.
Balance your website creation, book writing, or job hunt with beach walks, book reading, or letter writing. Cross It Off Weekend is a getaway to catch up on taxes or to paint, and everything in between. You choose. But then stop making choices and let the host and chef, wife and husband team Best Friend & Best Friend, take care of you.
Focusing inward amongst others focusing inward is a magical recipe that produces proud, successful, invigorated individuals and community.


Primary Goal: remove the item from your To Do List that's been there for way too long and is a source of self-disappointment every time you see it or adjust its "deadline." Or have a weekend dedicated to things you love but don't make time for — trashy magazines, recipe organization, art, scrapbooking, making mixes, legos, writing, puzzles. Your passion projects, your side hustles, your Squeeeeee. Or a combination of both.
Secondary Goals


Get feedback and support on specifics or big picture


Meet other motivated individuals who may turn into friends, clients, collaborators


Utilize a space outside of your normal space


Set yourself up for future success


Get away from life stressors and distractions


Indulge, relax, laugh


Deep sleep


Be taken care of and take care of yourself


Schedule
Thursday


4pm If you're Amtrak'ing from Chicago, this is the train we recommend (tickets range from $10 – $30 one way)


6 – 8pm Leisurely arrival and help yourself dinner


8pm – 9:30pm Welcome and group kickoff


Friday


Help yourself breakfast whenever you want it


You Time


12:30pm Lunch


You Time


6:30pm Dinner


You Time


Saturday


Help yourself breakfast whenever you want it


You Time


12:30pm Lunch


You Time


6:30pm Dinner


You Time


Sunday


8:30am Breakfast and group wrap-up including your progress report and "So, now what?" discussion


10am Departure




11:24am If you're Amtrak'ing to Chicago, this is the train we recommend (tickets range from $10 – $30 one way)


What's Included


Nourishment — all meals Thursday dinner through Sunday breakfast and snacks and drinks throughout


Lodging and Workspace — a ginormous yet cozy, beautiful, made for HGTV house in Somewhere Magical, Michigan a two hour'ish drive from Chicago. Sleeping arrangements range from solo bedrooms to shared bedrooms, King size beds to bunk beds; you get to choose from what's available by when you register (if there was ever a reason to Giddy up!, this is it). Plenty of room to spread out and plenty of workspace options, from couches to tables and chairs.


Social Time — if you're into board games, fire pits, hot tubbing, conversation…


Down Time — you're encouraged to read a book, go for a walk, take a nap…


Groupthink sessions


Other people just like you, looking to get it done


A host with one focus: to help you make quality progress by providing you with everything you need and stripping you of everything you don't. We'll even take your cell phone and/or not give you the WiFi password if that's what you need.


What's Not Included 


Transportation — if you don't have a car/can't rent one, or maybe you just don't want to drive, Amtrak is the best option. It drops you off 15 minutes from the house and we can pick you up/drop you off at the station.


Someone to do your thing for you — come prepared to put in time, brainspace, and energy


Examples of Past Weekender Activities


Choose productivity apps to learn and then doing a deep dive on tutorials and setting them up


Mileage log for the year and figuring out how to make recording mileage easier


Knit


Set up an analog calendar for the next Quarter


Plan an event


Clean up a database


Create onboarding documents


Client phone calls


Read analog journals and notebooks and prioritize which to digitize and which to toss


Organize 6000+ photos, including moving them from phone to computer


Plan travel for the next year


Busy, no fun work for hobbies and volunteer positions that has to get done


Phone call with Amazon to get a refund


Read for fun


FAQs
Who is this for?

Friendly humans with a thing that needs quality progress or whom simply want a self-centric relaxed getaway.
Seriously? People come to just read a book?
Yep.
What if I don't have a task or project?
Really? Really? Nothing on your To Do List?! That's impressive and we aspire. If this weekend appeals anyway, come. Read. Doodle. Lend support to others. Teach us how to not have a To Do List.
What if I don't have a big or sexy project, like writing a book or dropping an album?
Size and sexiness doesn't matter. Anything is welcome as long as it won't disturb other people (no noise, no smells, no animals) and doesn't take up too much room (think the size of a desk).
Can I come solo?
Absolutely. Mac & Cheese is known for making Party of Ones feel at ease.

Can I come with other people? Friends, coworkers, significant others?
Yes, as long as there are enough spots when you register.
What if I want to work with other people?
As long as there is an area where you can talk without disturbing others, fantastic! What a fabulous way to work on a collaboration.
What's the refund policy?
See the Dabble policy.
When's the next one?
As with almost everything Mac & Cheese does, to leave space for spontaneity and goodness, these are offered one at a time. Once this one concludes, the next one will be announced.

Can I bring a pet?
No.

Can I bring my kid(s)?
No.

What items should I bring?
Whatever you need to work on your thing (notebooks, pens, your laptop, files, box of receipts, etc) and to practice self-care (yoga mat, kindle, journal, etc). Headphones if you want to block out ambient noise. Clothes. Toiletries.

What if I can only come for part of the weekend?
This is not for you. This is for people who prioritize themselves over everything else for this weekend.

What if I'm an introvert?
Introvert-friendly environment. You'll be amongst others but mostly doing your own thing which is your jam, right? 100% ok to say no to hanging out, to steal away to recharge, to choose self over others.

What if I have dietary restrictions?
Let us know on the registration form and if we think it'll be an issue, we'll let you know. We're usually able to accommodate most folks, including vegetarians and vegans.

Should I register now or later?
Limited space so instead of adding "register for that awesome event" to your To Do List, just go ahead and register now. Then you don't have to worry about it later and you can guarantee yourself a spot. Additionally, sleeping arrangements vary widely and it's first come; after you register, you'll be placed "in line" to choose your bedroom. Plus, we sold out last time.

When you say sleeping arrangements vary widely, what do you mean?
There are some bedrooms that don't require sharing and some that do. Beds range in size from king to twin, traditional bed to bunk bed.

When will I be told the exact location?
As we get closer to the date and share more specific getaway logistics.

Why are you doing this?
No matter how successful we are, how many TEDx talks we've given, what magazines we've been in, how "happy" we are, it's a constant challenge to feel productive, balanced, and fulfilled. When we do accomplish something or cross something off the list though, oh my goodness what a feeling. We selfishly want more of that for ourselves. We lovingly want more of that for you.
We are head over heels with the vibe and infectiousness that manifests when you get a diverse group of nice humans together all working towards a goal and wanting one another to succeed.
What a gift to yourself to have a weekend where you can remove your adulting pants and have a guilt-free marathon of doing whatever makes you Squeeeeee.

A high-end home where you can pretend to be Oprah is kinda the best.
What to Bring
Whatever items needed for what you want to work on.
Minimum age
All ages welcome
What's Provided
Lodging and food.
Cancellation Policy
Location
There are currently no upcoming dates scheduled for this Dabble. Log in to an account message the host or add to your bucket list to be automatically notified when new dates are posted.
MORE ABOUT YOUR HOST

TOP RATED
A TEDx speaker and one of Brazen Careerist' s Top Twenty Young Professionals to Watch, Saya has discovered how to turn her love of creating community, challenging herself and those around her, and enjoying life to its fullest into her "job." Via her company Mac & Cheese Productions℠, she helps others (and herself) live a Life of Yes℠. Saya is from Evanston, went to Boston College, and resides in Chicago.