Give Your STRENGTH: Interval & Strength Training w/ Mo Corry of Orangetheory Fit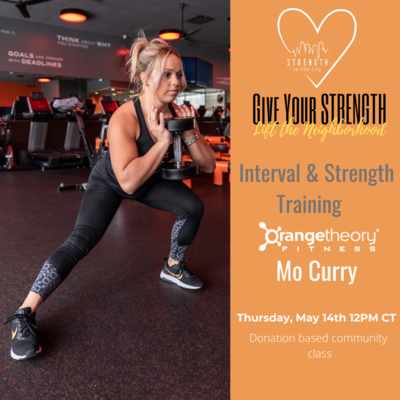 ABOUT THIS EVENT
Event Category
Fitness & Wellness
Event Overview
Every day, restaurants and fitness/wellness studios are the lifeblood of local communities. Not simply in their product offerings, but also in how they support so many of our friends and family with stable employment. With many having to close their doors and send employees home without paychecks, it's now our turn to step up and serve those who have loyally served us for years.
On Thursday, May 14th, Mo Curry of Orange Theory Illinois will be hosting a live interval and strength training workout! All donations will go directly to Orangetheory Fitness Oak Park and South Loop to benefit their staff during these difficult times.
STRENGTH IN THE CITY will be hosting "Give Your STRENGTH Live Workouts" weekly to give back to local communities. Live stream links will be sent upon registering.
The first 30 to donate to this class will receive gift packages with giveaways from our awesome partners in addition to some STRENGTH IN THE CITY items. The STRENGTH IN THE CITY team will safely distribute gift bags based on recommendations by the CDC.
If you are interested in being a partner in one of our "Give Your Strength" live workouts please contact us at community@strengthinthecity.com
www.strengthinthecity.com
Minimum age
All ages welcome
Cancellation Policy
Location
Virtual
There are currently no upcoming dates scheduled for this Dabble. Log in to an account message the host or add to your bucket list to be automatically notified when new dates are posted.
MORE ABOUT YOUR HOST
STRENGTH IN THE CITY's mission is to transform communities through a commitment to working — and working out — together. We strive to connect individuals and brands through inspiring fitness events that demonstrate the power of strength, wellness, and community.