ABOUT THIS EVENT
Event Category
Education
Event Overview
Interested in becoming a location independent entity? The recent explosion in remote work has opened the door for anyone who wants to embrace a more adventurous lifestyle. This class will give you the tools to consider your options and hatch a plan: Save, budget, research, network and more. First, we will tackle the BIG question: Is this digital nomad lifestyle for you? How can you test it out before you rent a storage locker and give up your permanent residence?
Then, we'll dive a little deeper:


How will you generate income?


Where will you live?


How will you find friends?


How will you create work/life balance?


Finally, we'll explore some of the nitty-gritty details:


How much money do you need?


What about insurance?


Do you need a storage locker?


What's the best phone?


Will your special dietary needs be an issue?


Can you bring your dog? And more.


There will be time at the end of class to answer your questions and address individual concerns. The instructor will provide a free copy of the Kindle version of her book Thrifty Girl Kicks Your Financial Butt to every student. The class is limited to 8 students. The class is 1.5 hours but can be extended 30 minutes to support any additional questions.
Alexis Steinkamp has been accused of passport abuse. In the last few years, she's traveled over 100K miles on a tight budget, lived on three continents, and hit many digital nomad hotspots including Medellin, Buenos Aires, Quito, Cuenca, Lisbon, Porto, Barcelona, Tarifa, Berlin, Amsterdam, San Cristobal de las Casas and Montreal. And, she's learned a thing or two about designing an alternative lifestyle on the move--and on a budget! Read all about the adventure at Freerangechickblog.wordpress.com. And, you can follow her personal finance ramblings at Thriftygirladventures.wordpress.com.
Minimum age
All ages welcome
Cancellation Policy
Location
Virtual
There are currently no upcoming dates scheduled for this Dabble. Log in to an account message the host or add to your bucket list to be automatically notified when new dates are posted.
MORE ABOUT YOUR HOST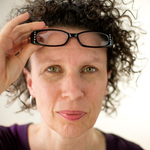 TOP RATED
Organizing your finances shouldn't be painful! I used to be a starving artist. Then, I figured out how to use my creativity to manage my finances and design an alternative lifestyle. It was a game changer. I worked hard, saved money, bought property, sold it, hatched plans, made lots of lists, etc. Then I wrote a book about it: "Thrifty Girl Kicks Your Financial Butt"
Today, I'm a digital nomad. I don't have a permanent home. I work part time and travel the globe in search of sunny weather, inspirational places and meaningful moments. Read all about my adventures at https://freerangechickblog.wordpress.com. I also write a personal finance blog at https://thriftygirladventures.wordpress.com. I enjoy sharing my story and insights with anyone who's curious.