Soul Collage: Playing with Your Inner Muse and Healer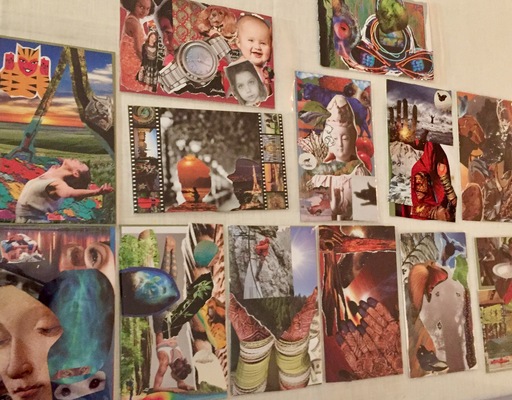 ABOUT THIS EVENT
Event Category
Fitness & Wellness
Event Overview
Tap into your intuition and find your relaxed inner muse and healer with Life Coach and Therapist Jamie Brennan. This soul-tending practice honors one's personal journey while nourishing clarity of direction, personal growth, and self-compassion  -and is…well, a lot of fun to do! Regardless of your question or dilemma, soul collage delivers you right to the center of your inner wisdom. You'll get to choose and arrange images from magazines on 5X8 cards in ways that delight and revitalize your spirit –each card offering a different and surprising window into your own soul's beckoning. Your soul collage card becomes a beautiful reminder of a part of you that you can hang up anywhere. 
What your soul beckons, your life is ready to create.
"I am always amazed how, even when I begin a soul collage with an agenda, something fresh and miraculous always emerges. - Peggy C.
 What you'll get in this 2 hour class:
A completed soul collage, and a delighted and revitalized spirit
Writing prompts to help discover deeper meanings within your cards
An additional collage card (with protective sleeve) to make at home
An option  at the end of class to share your card, ponderings and process
A new and easy way to access your deeper knowing and wisdom (easily replicated at home)will
What to Bring
Please bring scissors
Minimum age
All ages welcome
What's Provided
All materials but scissors will be provided: collage cards, protective sleeves for cards, magazines, glue sticks, step-by-step instruction handouts, Outline describing the flow state.
Cancellation Policy
Location
There are currently no upcoming dates scheduled for this Dabble. Log in to an account message the host or add to your bucket list to be automatically notified when new dates are posted.
MORE ABOUT YOUR HOST
Jamie has been an explorer of the soul, flow, relationships, creativity and the unfolding mystery through expressive arts since she can remember. She is also a Therapist & Life Coach specializing in relationships and big leaps to living, loving and working from one's true essence. www.jamiebrennantherapy.com